Send an email to robertsuh (at) gmail [dot] com saying you want our NEW GAMES and we will send you a FREE COPY of ALL our NEW games and apps!
how cool is THAT! so Tell all your friends to send me an email
we only get a limited number of promo codes, so the free offer is on a first come, first served basis. Email me now!
VIDEO POKER for the iPhone, iPad and iPod Touch!
Video Poker and Perfect Play Trainer : WE TEACH YOU TO WIN while having FUN! Play Video Poker just like in Vegas! We LOVE playing Video Poker, and we play it all the time! Perfect Play Trainer - the trainer dynamically runs through millions of hands to determine the MOST PERFECT PLAY for every hand and every paytable!
VIDEO POKER GAME FEEL
If you played video Poker in the casinos, you will LOVE ours! It plays and "FEELS" EVEN BETTER! yes... even BETTER than the casino version! We have you tap to hold, and the SWIPE the screen to hold. BUT we have MULTI-TOUCH, use multiple fingers at the same time to hold multiple cards! Yes it works! It doesnt work in the casinos! we tried! Better high lighting of your wins. Crystal Clear HIGH RESOLUTION graphics with RETINA grade clarity. Graphics are clean and smooth and not blocky at all. All these great things WITHOUT taking from the TRUE FEEL of the Casino Video Poker game. Because we LOVE the feel of Video Poker.
We are here to CONVERT you!
Never played Video Poker? No problem, we teach you! I have converted countless numbers of people over to Video Poker. They love it! No more slots, we are here to take over the VIDEO POKER machines with this game! and WIN, damn it!
The SHUFFLE Engine
SHUFFLE ENGINE
- We worked very hard to perfect our shuffle engine. The Shuffle Engine is variable, from EASY WIN, FUN MODE, and REALISTIC CASINO MODE. Change the difficulty level to your style of play.
CASINO GRADE SHUFFLE ENGINE
- We spent A LOT of time on our shuffle engine. To make it the most random and equally distributed as possible. We researched Random Number Generators which are passed by the Nevada Gaming Commission. If its good enough for the NGC, its good enough for us! This gives you that TRUE casino feel!
FUN SHUFFLE ENGINE
- How fun is losing? IT SUCKS! So we give you the option to change the shuffle engine so you win either A LOT or a LITTLE, or anything IN BETWEEN, your choice! Its a SLIDER! Make way for the ROYAL FLUSH! JackPot!
Tons of STATISTICS
STATISTICS - Tons of Statistics! Stats on the shuffle engine, and your play! How perfect are you playing? How fast are you playing? TONS of INFO! We love stats! If you are into stats, we love you!
Set your BANK ROLL
SET YOUR BANK ROLL - set the amount of cash to what you need! How long can you last with $20? Easy, just set it and play. If you had more than $20 it goes in the "bank".
ANALYSE a HAND
ANALYSE A HAND - enter in any set of 5 cards, and we instantly tell you the best cards to hold!
Crazy GAME SPEEDS
GAME SPEED - WE LOVE TO PLAY FAST! And we don't want anything to hold us up! Set the deal and win speeds to super sonic fast, slow poke slow, or anything in between. Its a slider!
VOLUME Controls
VOLUME CONTROLS - set the volume of sound effects to anything you want!
LAYOUTS
LAYOUTS - flip the layout where the cards are on top of the screen instead of the bottom. When playing in bed, its easier on the fingers to tap in the middle of the ipad than at the bottom! It was just one of my preferences!
PERFECT PLAY TRAINER
PLAY TO WIN! We TEACH YOU! - WE LOVE VIDEO POKER. and we like to win at the casinos! So we need to play our perfect game. So we included the PERFECT TRAINER. When you make a bad move, we tell you! AND we tell you what you should be holding.. AND WHY you should be holding that! We show you all 32 combinations of HOLDS, and show you the SCOREs for each. The PERFECT TRAINER is dynamic. It calculates MILLIONS of hands based on your current pay table! keep reading....
AUTO HOLD
AUTO HOLD - feeling a bit lazy? Want us to hold your hand, baby? Sure, happy wife, happy life. Using the PERFECT TRAINER algorithms, we auto hold the best cards each hand. Keep the peace!
HUD DISPLAY
HUD DISPLAY - How many Perfect Plays can do you in a row? We had big competitions with the family on that! We show you on top of your screen, how many perfects you currently have in a row and what was your HIGH SCORE! If you dont like it, you can hide it!
CUSTOM PAYTABLES
CUSTOM PAYTABLES - How are you supposed to get good at your video poker game, if the pay tables where you play do not match ours? You cant get good at all really, since you are most likely playing wrong. NOW, you can change ANY of the pay tables in ANY of the games to be what ever you want. Even make crazy stupid games, like JACKS OR BETTER pay 800! Yee haw! Life is good.. But it gets even BETTER! since the PERFECT PLAYER is dynamically calculating what the most perfect cards to hold are, it will TEACH you the MOST perfect PLAY even on these FANTASY pay tables! How awesome is that!
DENOMINATIONS
Sick of playing PENNIES in the casino? Yea.. so are we. But you gotta do what you gotta do. UNTIL NOW! Now you can play from 1cent, 2 cent, 5 cent, 10 cent, 25 cent, 50 cent, 1 dollar, 5 dollar, 10 dollar, 25 dollar, 50 dollar,and 100 dollar DENOMINATIONS!!! Go kick some ass!
PLAY ALL OF THE GAMES YOU LOVE
- Jacks or Better (default is the lovely 9/6 pay table) - BONUS POKER - BONUS POKER DELUXE - DOUBLE BONUS POKER - DOUBLE DOUBLE BONUS POKER - TRIPLE DOUBLE BONUS POKER - Tens or Better - All American - White Hot Aces Since you can change the pay tables to whatever you want, you can add your own games! Remember, the only difference between all the various video poker games is the pay tables! Go crazy!
SCREEN SHOTS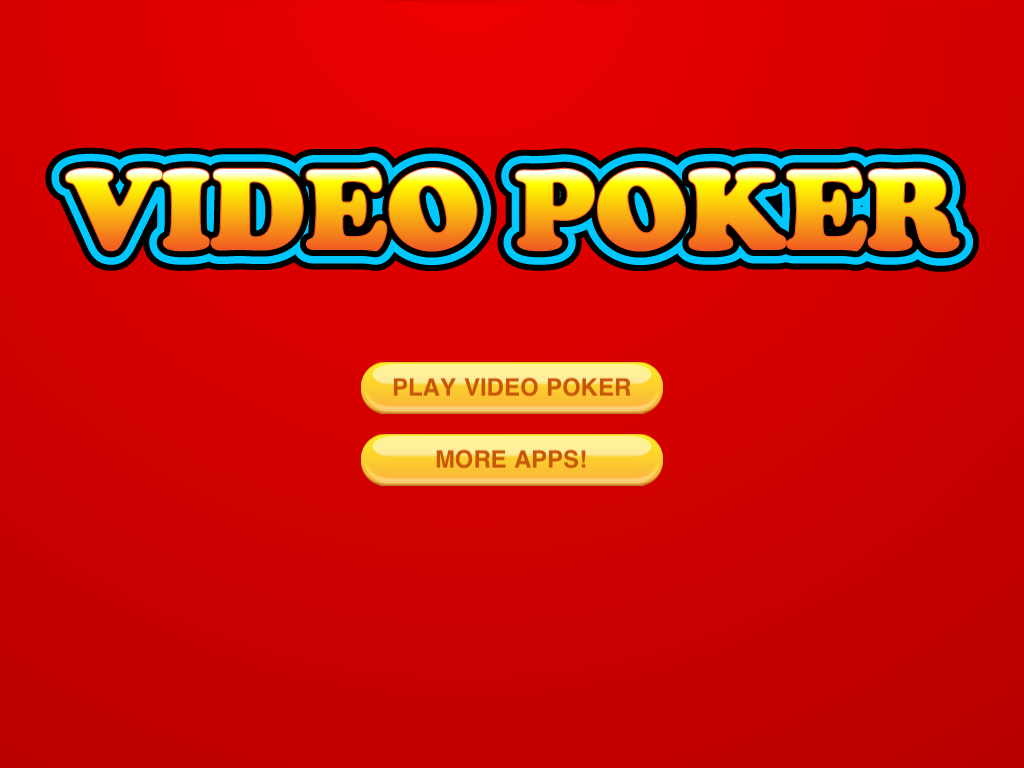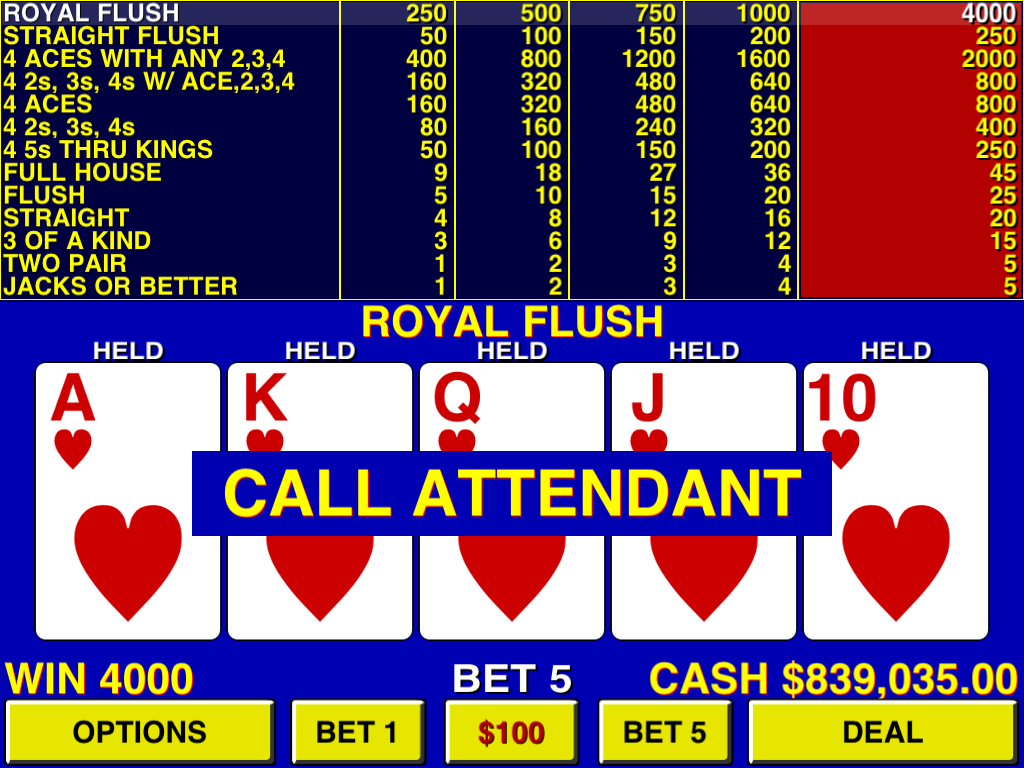 ROYAL FLUSH! Call the ATTENDANT!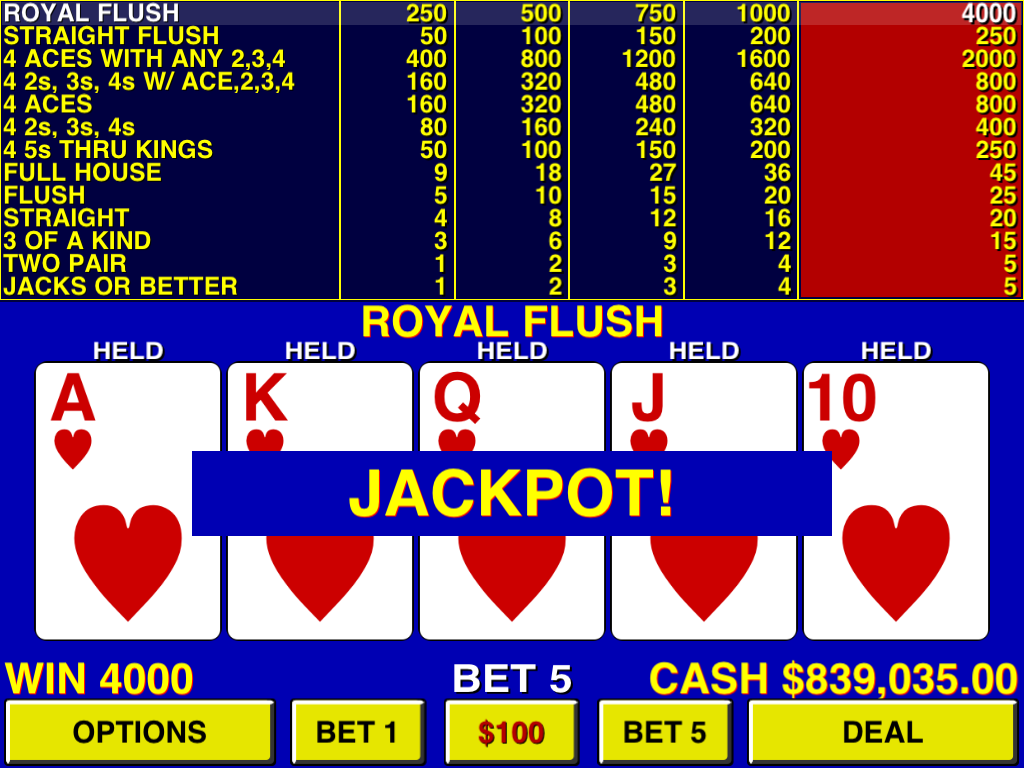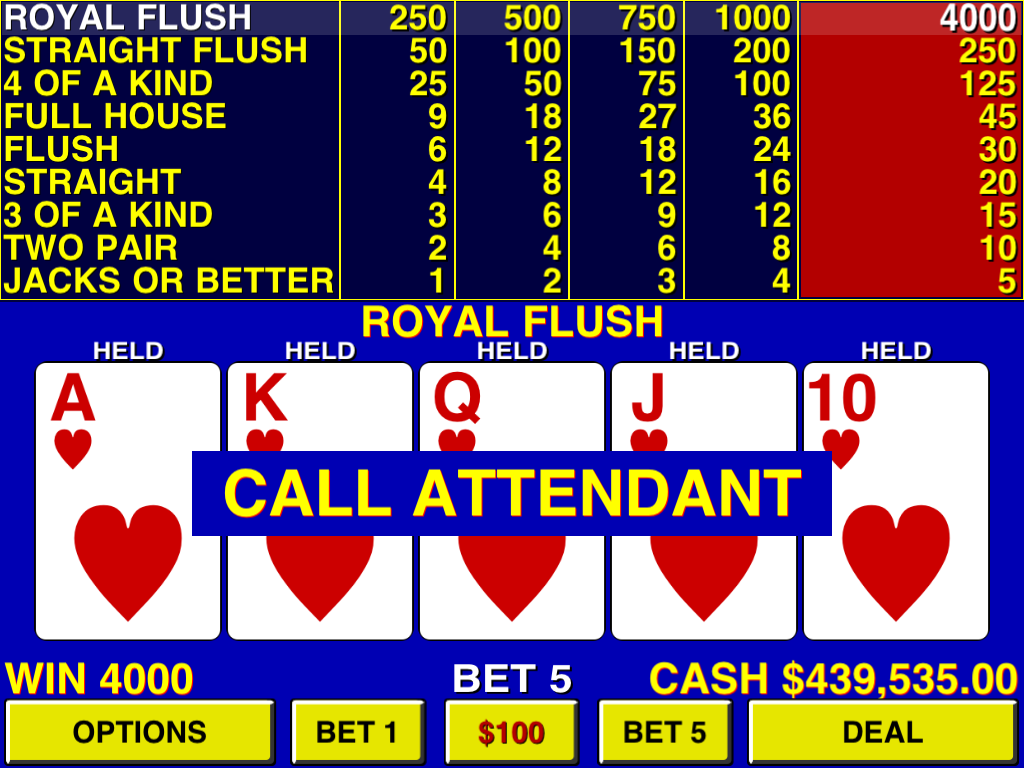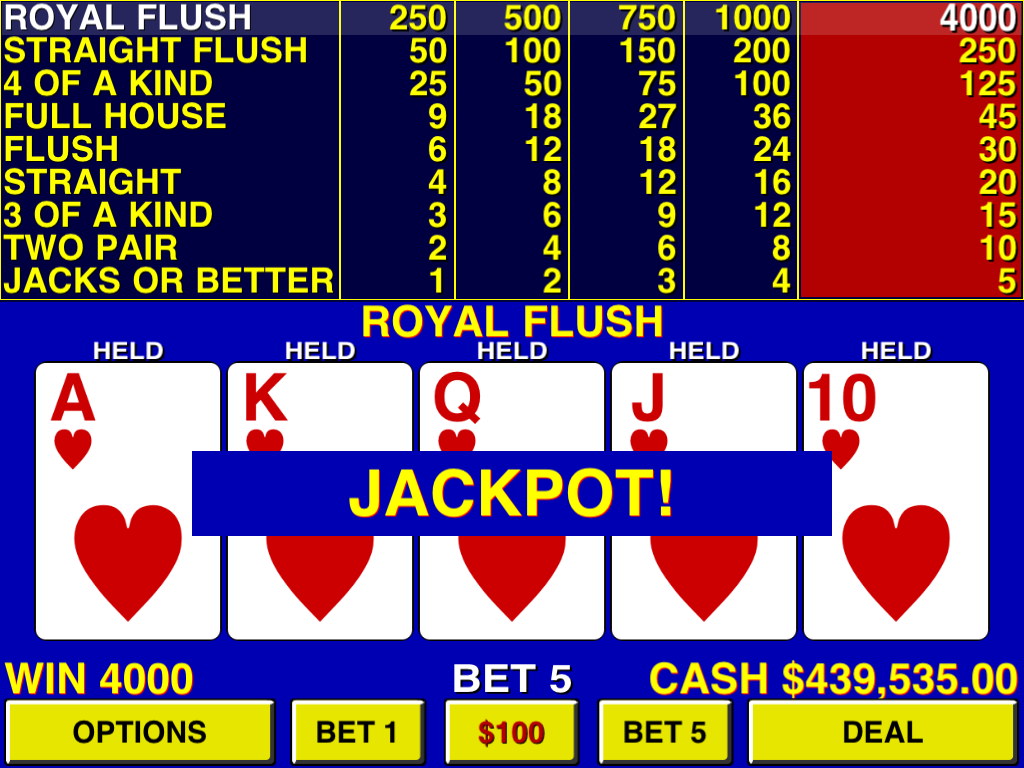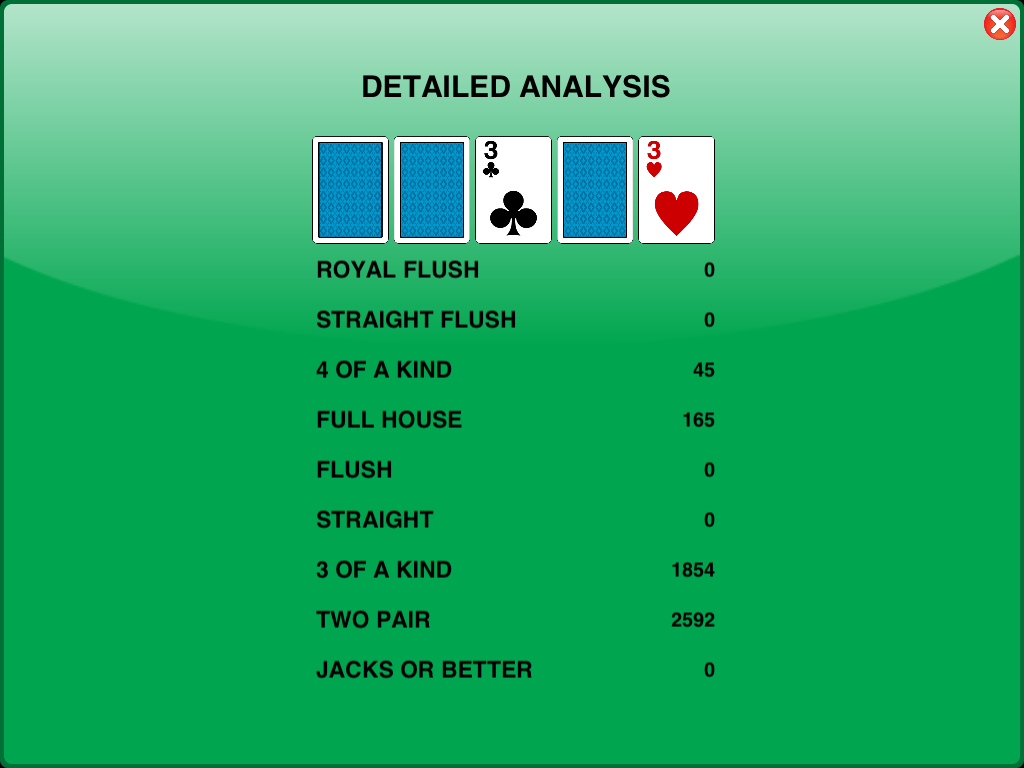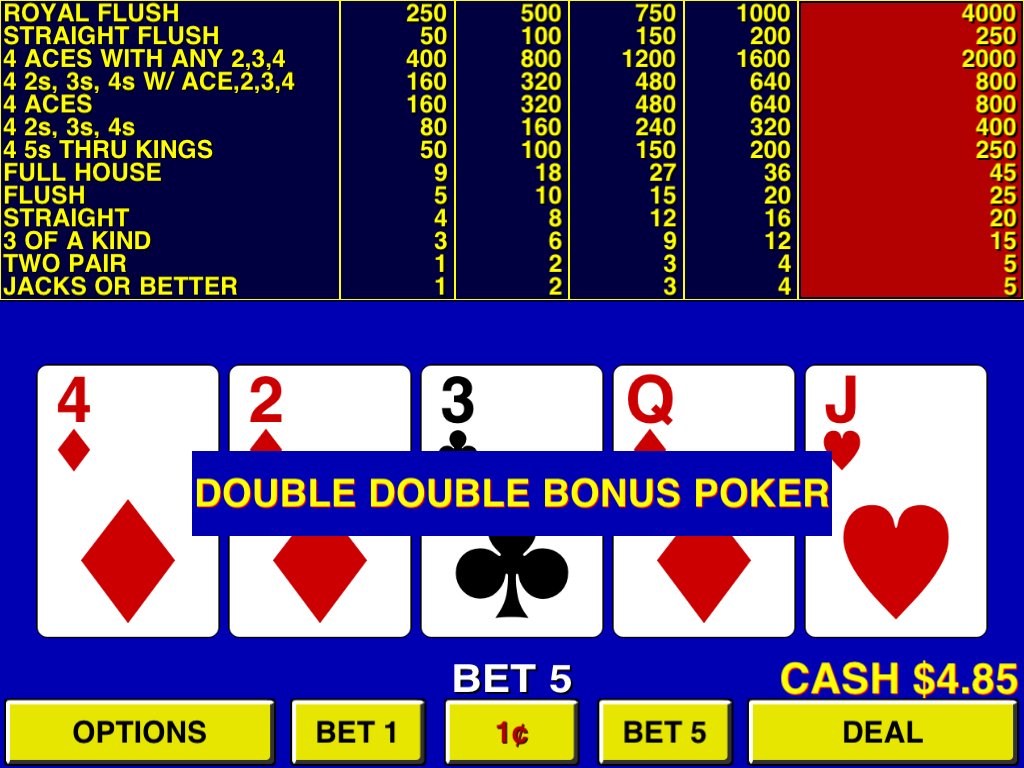 Double Double Bonus Video Poker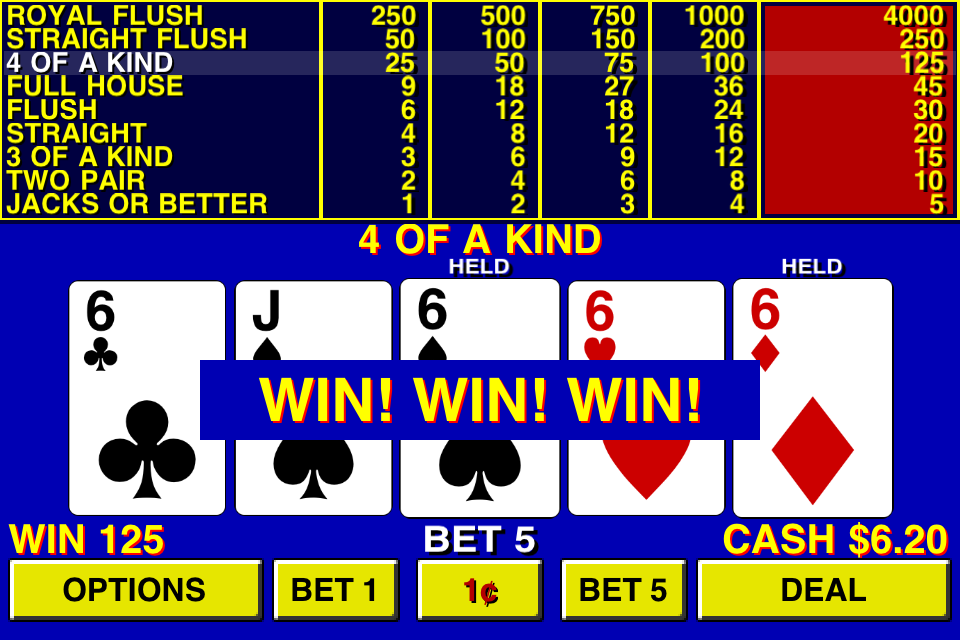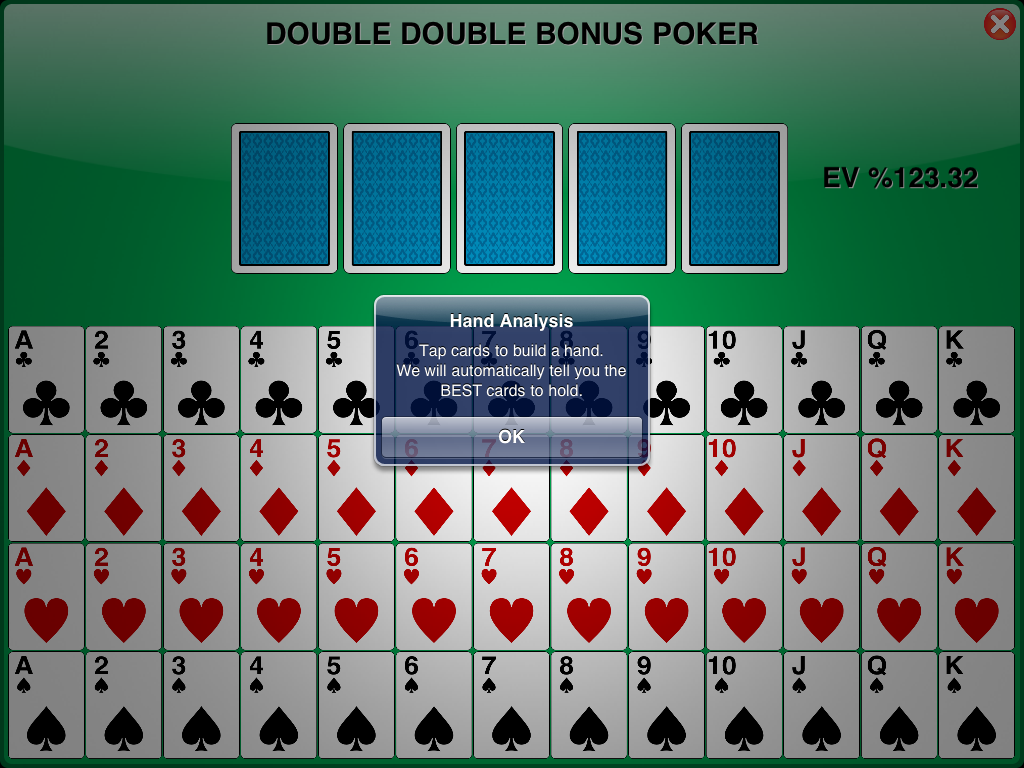 Enter in any hand, and we tell you the PERFECT PLAY!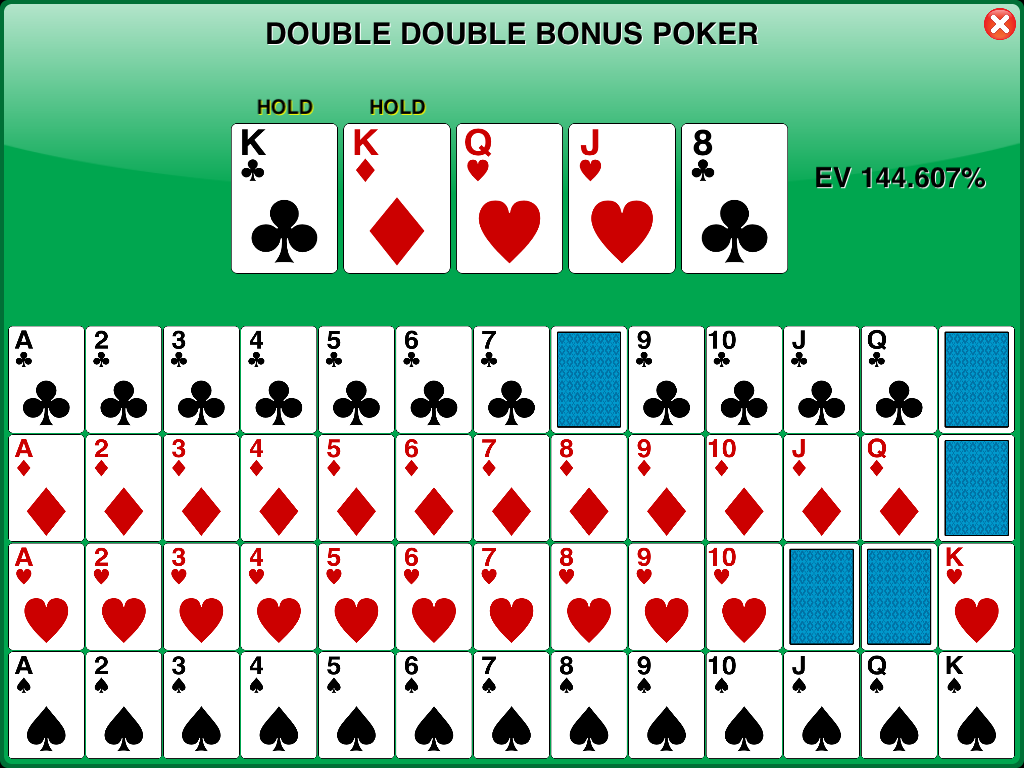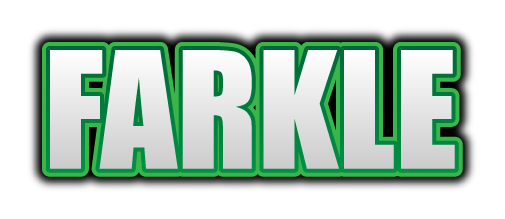 check out FARKLE ADDICT for iPhone, iPad and iPod Touch

check out BINGO CLASSIC for iPhone, iPad and iPod Touch

check out VIDEO POKER for iPhone, iPad and iPod Touch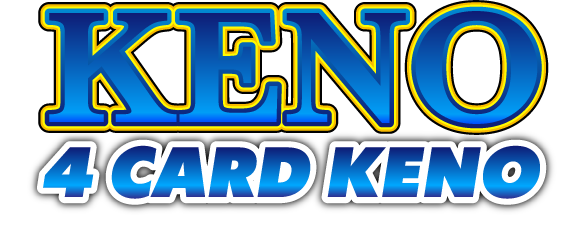 check out KENO 4 Card for iPhone, iPad and iPod Touch