Run your own BINGO HALL!
Download Bingo Cards as a PDF file
How to Play Bingo
Easy and FREE Fundraising with Bingo!
The game of Bingo has been used for over a hundred years for fundraising. The equipment for professional flashboards, ball hoppers, and cards can get quite expensive. We have created a way for your organization to host a BINGO PARLOR in your restaurant, club, club house, or home for nearly FREE.

We created software that REMOVES all the expensive flashboards, ball hoppers, and purchased Bingo Cards.
Virtual Bingo Flashboard
Bingo Flashboards are expensive, and cost over $3000 USD! Way way too expensive. Plus, they break and need maintenance. Our virtual bingo flashboard removes all that cost. Our Bingo software for iPhone optionally supports TV OUT. Connect the iPhone to Plasma TV's, HD TVs , and Projectors. Hook it up to any TV or Computer Monitor in the House.

* LARGE NUMBERS - clearly see from a distance
* Displays total balls drawn
* Shows Last Ball called
* Flashes the Last Ball called
* Shows the NEXT Ball to be called, like a real Bingo Hall!
* Shows the current Pattern!
* Calls out each number with a clear voice
* Change the speed from 5 seconds to 30 seconds
* Never broken wires! No blown light bulbs! No broken motors!
* Schools and Churches love to use the HUGE SCREEN Projectors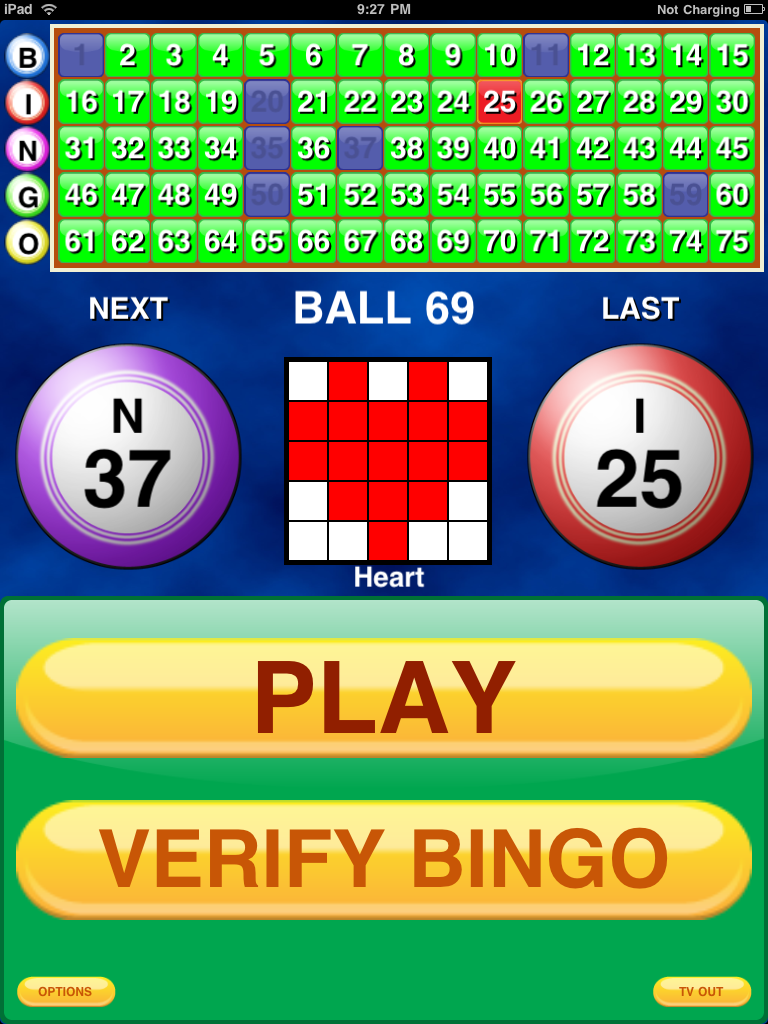 Prints out over 16 MILLION Unique Bingo Cards
Yes! Print your own Bingo Cards! With over 16 Million unique and serial numbered Bingo Cards! Use your own printer! Click here for an example in PDF format. Four large print Bingo Cards are printed on each sheet of regular 8.5x11 inch standard sheet paper. The Bingo Cards are standard size used in Bingo Parlors and Halls. This allows seasoned Bingo Players to feel as comfortable as possible!
Automatic Bingo Card Verification
Once a player calls Bingo, the next step is to manually check that all the Numbers on their card has indeed been called. Its a painful experience. Our Bingo Software for iPhone allows you to automatically verify that their Bingo card is a winner! On each Bingo Card printed out, we have a unique serial number on each. Just type in this serial number, and our Bingo Software will automatically DISPLAY, for all to see, and VERIFY that the Card was a winner or loser! So simple!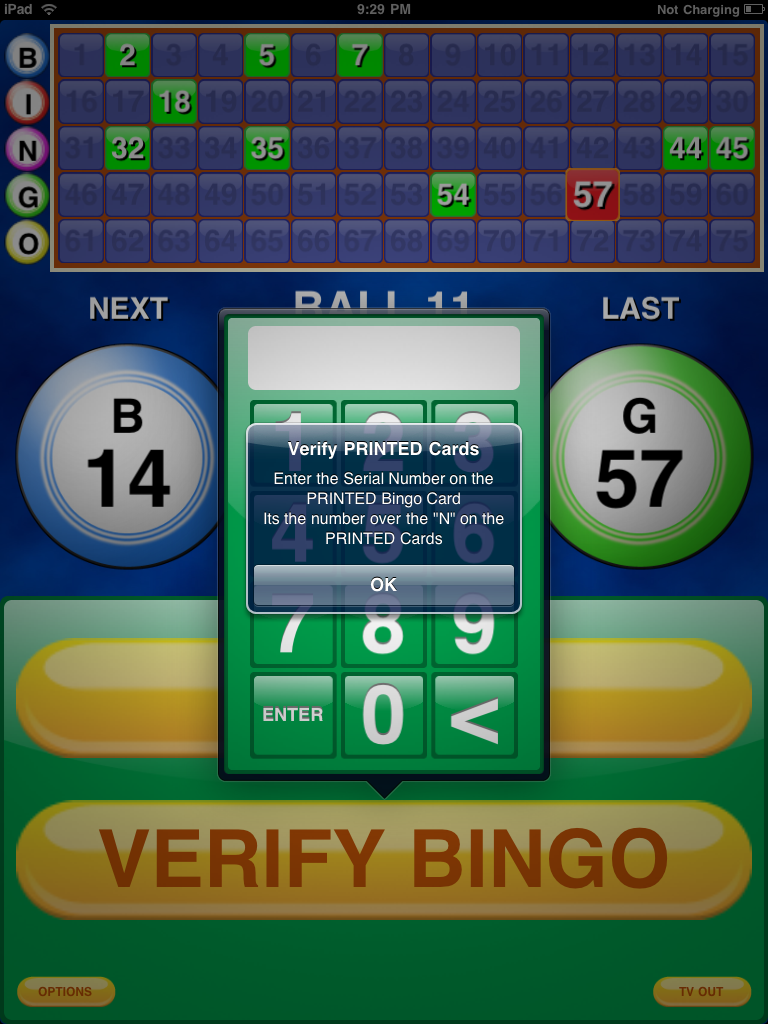 All your favorite Patterns!
* All the unique patterns is what makes the Bingo Halls prosper! From the standard 5 in a row, to classics such as Cover All, picnic tables, layered cakes, checker boards, etc. We have them all.
* Over 60 Unique and Popular Patterns to play!

Small and Compact
Since our Bingo Software for iPhone is so small, it fits in your pocket or purse!
Who uses our Bingo Software?
* School Clubs and Organizations
* Churches
* Fraternal Clubs
* Restaurants
* Senior Centers
* Charity Fund Raisers
* Yacht Clubs
* Community Centers
* Apartment and Condo Associations
* Bingo Halls and Bingo Parlors
* Country Clubs
* Coffee Shops
* Bars
* Camp grounds
* Used all over the United States, Canada, Thailand, England, Japan, China, Austrailia, and more!

What Users have been saying...
Did we say its FREE?
YES! and its FREE for a Limited time!
Bingo is FUN!
Instead of trying to pull donations from people, playing Bingo is fun for them! Plus they get a chance to win something! Lots of Bingo Players are repeat customers, so you can even have a weekly Bingo Night!
Used iPhones, and iPod Touches are CHEAP
If you dont have a iPhone ,iPad or iPod Touch, do a quick scan on Craigslist in your area. They are freely available for as low as $50. But most likey, someone in your organization (or their kids) already have one!
How to Get our FREE Software for iPhone,iPad or iPod Touch
Click the link below, or go to iTunes and search for "Bingo Classic"
This IS NOT a demo version or a "crippled" version. This is the FULL version. It is FREE for a LIMITED time as a marketing promotion. So please tell anyone you know, before the FREE OFFER EXPIRES